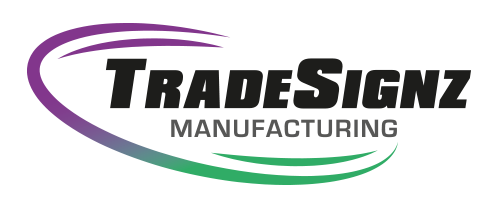 Tradesignz grew out of a retail Sign-making firm, Sign & Print, and the need for good quality Pavement Signs and Projecting Brackets at reasonable prices. In the early 90's, we designed the signs & sub-contracted the manufacture to a local blacksmith, ordering batches of 10 a time. We found ourselves supplying some of our signs to our local sign-making colleagues & then realised that we needed to increase stock for our own retail requirements.
As one of our signmakers had been a fabrication welder in an earlier life, it was decided to set up a a dedicated steel fabrication department & begin limited production 'in house' - with the result that the quality went up and at the same time the prices came down.
This department became a Company in it's own right with a separate manufacturing factory in 2003, actively designing and manufacturing new products, and supplying sign-makers further a-field, to the point that we are now despatching sign blanks & frames across the country and exporting to Ireland and a number of European countries.
Trade Counter
Goods can be collected from our Trade Counter between the hours of 9am - 5pm. Monday to Friday.
Telephone 01524 841726 to arrange collection outside these hours.
Delivery Service
September 2006 saw the start of our dedicated delivery service to North Lancashire & South Cumbria. The specially racked van carries a varied selection of sheet & roll materials, Sign Frames, Brackets and Blank Panels, together with a wide range of signmakers consumables, including tapes, fixings tools etc.