JECT 15 Projecting Sign Bracket
Dimensions: L 102cm H 50cm W 12cm
Hanging Eye centres: 41cm
Weight 4.6kg
Heavy duty steel construction.
Zinc & Powder Coated black.
Supplied with free wall fixings.
Panels and accessories available
Minimum panel width: 500mm
Maximum panel width: 920mm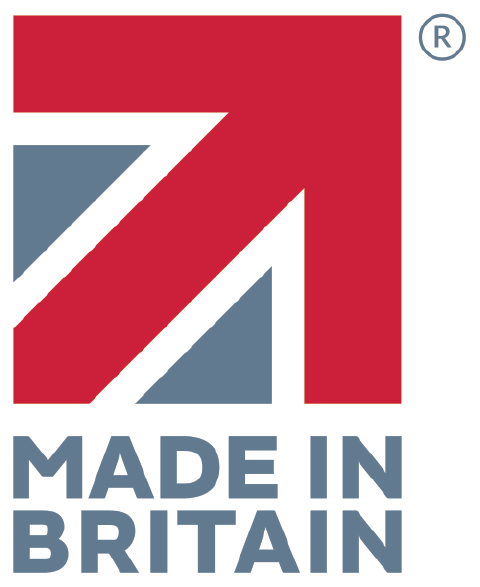 Have this product with its options and price emailed to you as a quote.
JECT 15 Projecting Sign Bracket
Dimensions: L 102cm H 50cm W 12cm 

Hanging Eye centres:- 41cm

Weight 4.6kg

Heavy duty steel construction.

Zinc Plated & Powder Coated black. (Other colours available)
Supplied with free wall fixings & hanger bolts.
Panel size and style 
Our standard panels are manufactured from 19mm thick PVC and are made to measure. The hanging eyes are epoxy bonded into the panel and you don't need any other fixing to hang it from our bracket.
Any panel shape or size can be made to order - Just call us on 01524 841726 or email sales@tradesignz.com. We have the following standard shapes available: Square, rectangle, oval, circle and park.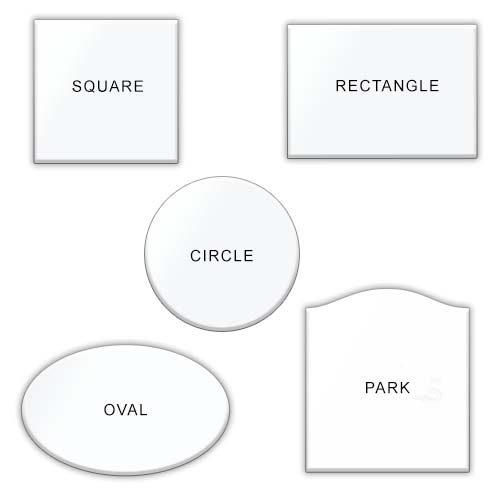 Panel edge profile
Panels can be square edge or have a 'bullnosed' edge. The square edge is ideal for a full printed graphic as it gives you a definite edge to work to.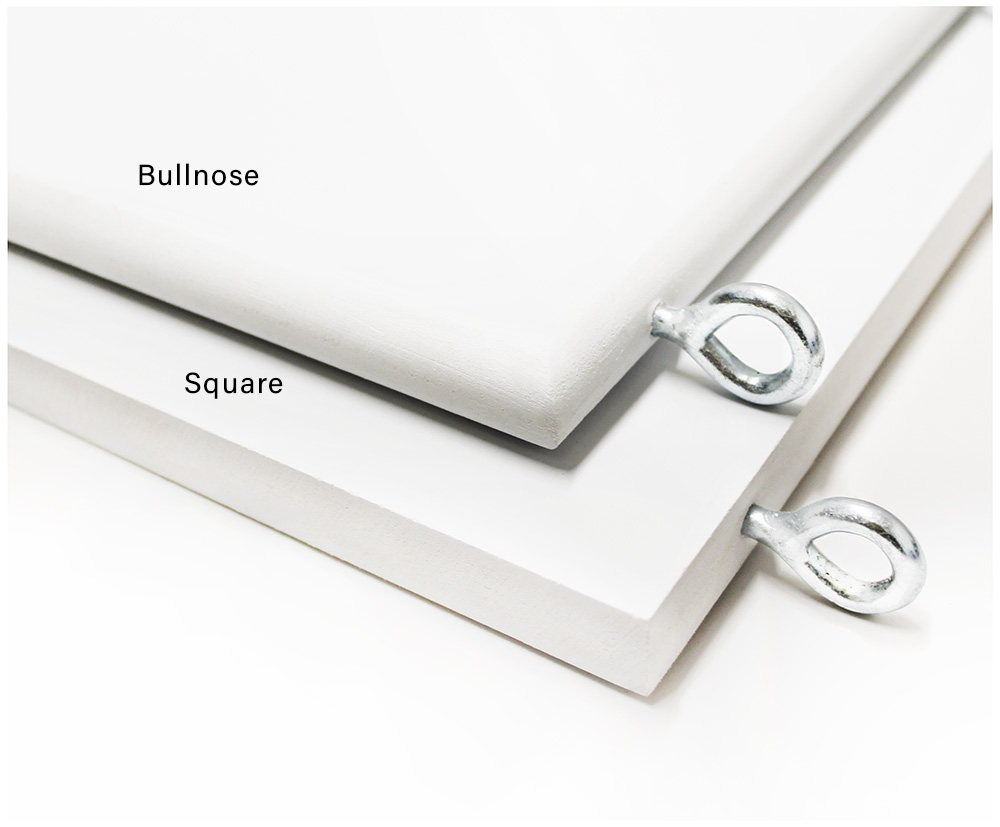 Panel Accessories 
If you already have your panel we have a number of fixings to attach it to our bracket:
Hanger Plate or Hanger strap
If you have a panel with a substantial frame the Hanger Plate is designed to be screwed to the top edge and will directly hang from the bracket.
The Hanger Straps are a traditional way of hanging heavier panels as the fixings are along the top & down both sides.
We stock several widths, four of which will match this bracket. (not suitable for a panel less than 20mm thick)
Hanger Plate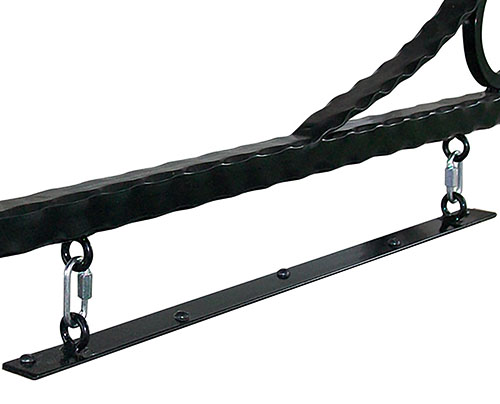 Hanger Strap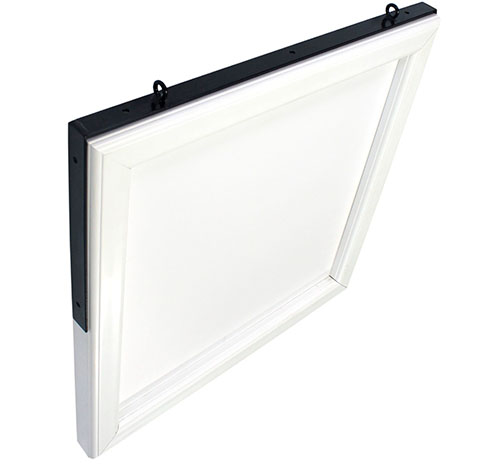 Suspension eyes, links and shackles 

The Suspension Eyes are zinc plated and we use a tro pack epoxy to screw & bond them into our 19mm PVC panels.
Our Zinc plated screw Karabina Links are ideal for linking between the Suspension Eyes and your existing bracket. (not usually required if you order one of our brackets)
Our Long Shackles are stainless steel and ideal where you have a thin sheet panel such as AMC or aluminium (up to 10mm thick)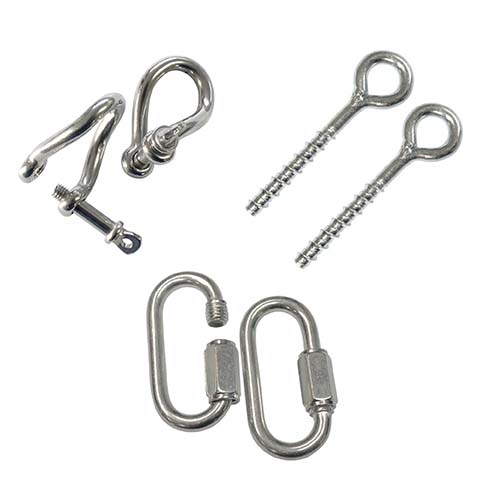 Swing Preventor / Limiter
Occasionally you may need to limit the amount of panel swing or stop it swinging altogether.Our Swing Preventor is a simple bracket that screws to the bottom of the panel and bolts to the wall, whilst the Swing Limiter consists of screw eyes that go into the wall and the panel with a stainless steel cable between them. The amount of swing is governed by how slack you leave the cable. 
If your bracket needs to fit to corner of building you can add a Corner Bracket Adapter. If it is a heavy panel then a Cable Stay Kit provides added support.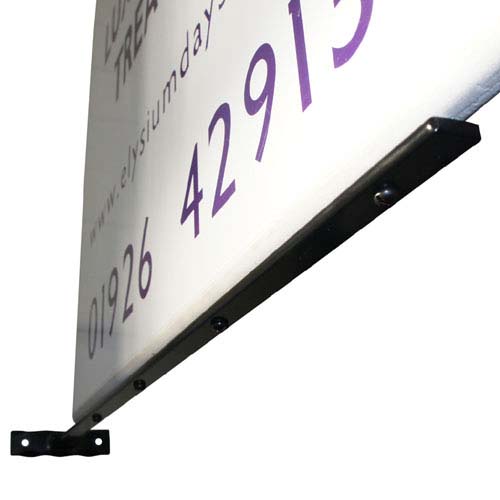 Artwork
We can apply digitally printed direct from your file. Please select the option above and attach your artwork file at the checkout (or email it separately to studio@tradesignz.com quoting the order number)
Please pay careful attention to the following guidelines:

We pride ourselves in offering a high quality and fast turnaround service but we can only do this if you provide artwork files in accordance with the guidelines below.
Failure to follow these guidelines will almost certainly delay your order and/or incur extra costs.
The prices shown are for your artwork to be supplied in a "ready to print" format.

We accept artwork files from various Windows programmes as detailed below. However, for each file/program type please note the format requirements: compression should be turned off.
Supplying us with correct, ready to print artwork is your responsibility. Please check your artwork carefully before submitting it to us as we cannot be held responsible for print errors or delays where artwork has been supplied incorrectly. 
File Formats
We require artwork to be supplied in the following formats:
.ai:     When supplying artwork in this format, please ensure that all fonts are outlined and any images are embedded or supplied as separate image files.
.eps:  When supplying artwork in this format, please ensure that all fonts are outlined and any images are embedded or supplied as separate image files.
.tiff:    Please supply tiffs following our guidelines on suitable image resolutions (dpi) below.
.jpeg: Please supply as un-compressed jpeg following our guidelines on suitable image resolutions (dpi) below.
.pdf:   Print ready artwork- please ensure this includes the appropriate bleed and crop marks and adheres to our guidelines on image resolution (dpi) below.
Some file formats can be more suitable for certain types of work, please feel free to give a member of our design team a call if you are unsure or have any questions.
Colours
Our print machines are CMYK based (Cyan, Magenta, Yellow and Black). Our rip software will automatically convert any Pantone colours to CMYK. If you have any specific Pantone references that need to be matched, please do mention this to a member of our sales team when placing your order.
Image Resolution
When supplying rasterised artwork, i.e, eps, tiff, jpg, or print ready .pdf files, please ensure that the resolution (dpi) is set as below, these are absolute minimums. If file size allows then 300 dpi is optimum:
         

Full scale (100%) - 72 dpi

         

Half scale (50%) - 150 dpi

        

Quarter scale (25%) - 300 dpi

        

10 % Scale (for use with large format artwork) - 750dpi
Fonts
All fonts should be supplied with artwork in a separate folder, labelled accordingly. Where possible, fonts should be outlined. On occasions text can re-flow so providing a pdf or hard copy of the artwork would be beneficial.
Sending Artwork
If the file size is less than 10 Mb then please use regular email. For larger artwork files, commercial websites such as Mail Big File, We Transfer or drop-boxes are the best way of getting the files to us.
If you have any questions or require any assistance with file types or artwork resolution, please do not hesitate to give us a call on 01524 841726 or email us at sales@tradesignz.com.
Shipping costs
Delivery charges vary based on the product, size and delivery address.

Estimated delivery charges for this item.
Mainland UK and Scottish Mainland - £0.00
Grampions - £17.25
Isle of Wight - £21.55
Scottish and other Islands - £40.99
Scottish Highlands - £30.55
Northern Ireland - £40.99

For an accurate delivery charge, please enter the delivery postcode in the cart or at the checkout.
Shipping processing time
All orders for stock items are generally processed within 1-2 days working days.
Orders for special colours or more bespoke items will take longer. We usually have these processed within 10 days working days, but it may take longer depending on the specifications.
If you have a particular delivery deadline, please call the office on 01524 841726 to discuss your needs.

If we are experiencing a high volume of orders, shipments may be delayed. Please allow additional time for your delivery. If there will be a significant delay in any shipment of your order, we will contact you via email or telephone.
Shipment Confirmation & Order Tracking
As soon as your order is packed & ready for the courier, we will email your invoice with the Carrier & Tracking Information.
Deliveries
All deliveries must be examined - before being signed for.

Any damage or shortage must be noted with your signature and to us within 24 hours, otherwise the carriers will deny responsibility, and we will be unable to make a claim on your behalf.