Bull Nose PanelTrim Frame
Our Bull Nose PanelTrim sign frames is the most stylish framing available throughout the UK.
Typical delivery Black /White 3-5 days, Colours 10-14 days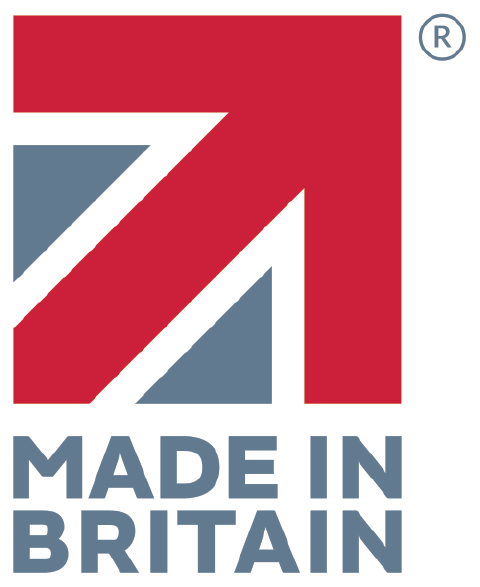 Have this product with its options and price emailed to you as a quote.
Our Bull Nose PanelTrim framing has a cover face of 35mm, (which takes a 3mm or 5mm panel) - making it suitable for all but the smallest or largest of signs.
The kit includes all four sides pre drilled & mitred, the corner cleats set into the side pieces and fixing screws & plugs so that all you have to do is fix it to the wall.
Sizes
We manufacture the kit to the size you specify, i.e. the outer size so please remember that the viewable size will be 70mm less in each direction.
If your sign is less than say 400mm deep or larger if its going inside, you may want to consider our Small Panel Trim which has a slimmer profile. Equally, if your panel is very deep or located in a windy situation, you should probably think about our Large Panel Trim framing because it has a cover face of 45mm. 
It is best practice to suspend the panel from the top rail by means of a 'hanger strip' so that the panel will always hang straight & flat.
If you just stand the panel in the bottom rail there is a danger that it may become distorted due to it's own weight, particularly in the summer when the panel can get very hot & lose their rigidity. This sort of problem is more likely when the panel is Acrylic or Foam PVC, but even if your using ACM, its still better to use Hanger Strips because then the bottom of the panel dosn't get stuck in the build up of dirt in the bottom frame, making them easier to get them in & out in the future.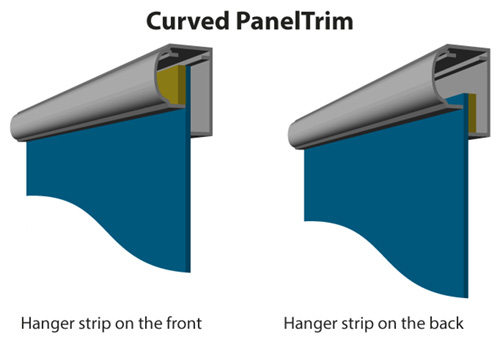 Colours
We stock Anodised Silver, and powder coated Black and White, or we can powder coat to your specific colour.
TIPS   
Remember that the panel needs to be loose enough to allow it to expand in the summer & contract in the winter without it becoming trapped & then distorted so we suggest that your panel be 30mm less than the overall frame size, and that you notch the corners as shown so as to prevent the panel nipping in the corners.
If your sign is made up of more than one panel you really should 'half lap' the joint and fit anti flex plates and put 'Panel Locks' at the top. This is to keep the panels tight together at all times, which looks better, and also prevents the wind getting behind the panels, which can risk blowouts.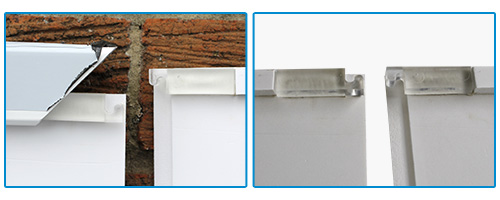 A run of grease along the hanger strip & on the frame where it touches the panel makes it easier to get in & out in the future.

Shipping costs
Delivery charges vary based on the product, size and delivery address.

Estimated delivery charges for this item.
This product is subject to a length surcharge, depending on the length and delivery location.
Mainland UK and Scottish Mainland - from £8.60
Grampions - from £25.00
Isle of Wight - from £21.55
Scottish and other Islands - from £47.00
Scottish Highlands - from £39.00
Northern Ireland - from £40.99

For an accurate delivery charge, please enter the delivery postcode in the cart or at the checkout.
Shipping processing time
All orders for stock items are generally processed within 1-2 days working days.
Orders for special colours or more bespoke items will take longer. We usually have these processed within 10 days working days, but it may take longer depending on the specifications.
If you have a particular delivery deadline, please call the office on 01524 841726 to discuss your needs.

If we are experiencing a high volume of orders, shipments may be delayed. Please allow additional time for your delivery. If there will be a significant delay in any shipment of your order, we will contact you via email or telephone.
Shipment Confirmation & Order Tracking
As soon as your order is packed & ready for the courier, we will email your invoice with the Carrier & Tracking Information.
Deliveries
All deliveries must be examined - before being signed for.

Any damage or shortage must be noted with your signature and to us within 24 hours, otherwise the carriers will deny responsibility, and we will be unable to make a claim on your behalf.